Where every software selection project in the German-speaking region begins
The BARC Guide Data, BI & Analytics enables you to target the right people in the right place at the right time.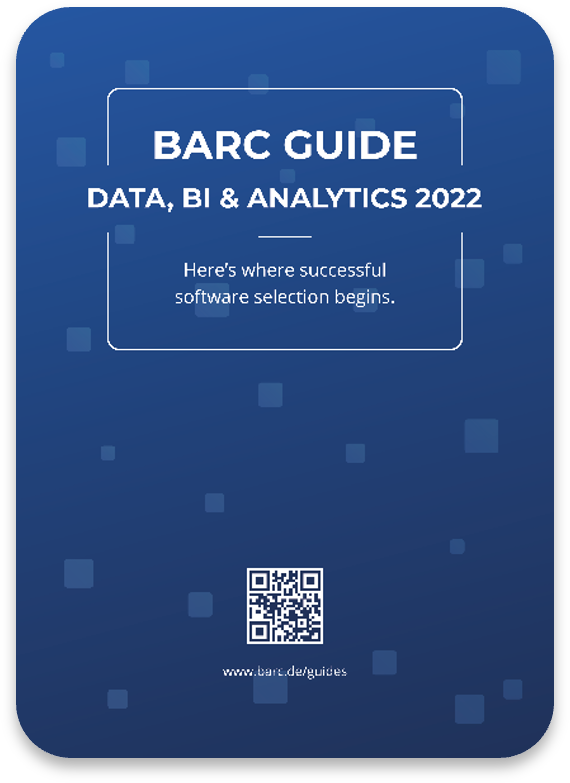 Why your data, BI or analytics solution should be represented in the BARC Guide
Because software selection projects in the DACH region begin here
BARC Guides provide decision-makers with all the information they need to start a software selection project – from user experiences and checklists to expert advice.
Its complete overview of the most important software vendors makes BARC Guide Data, BI & Analytics an indispensable tool for anyone involved in selecting software.

""The brands who show up with the right message at just the right moment are the ones on the path to growth and revenue."

Google Analytics, Linking analytics and ads
Because you can reach your target group in the right place at the right time
BARC Guides are read by over 40,000 qualified decision-makers in Germany, Austria and Switzerland looking for a complete overview of software providers.
The right time: The BARC Guide reaches decision-makers when they are just beginning their selection process.
The right place: Present your company in the BARC Guide with a case study, company profile, references and contact details.
Because this is how to ensure that your product is considered in software selection projects in the DACH region
The BARC Guide is an indispensable reference for BI selection projects in the DACH region. It provides decision-makers with all the basics they need to get started: From checklists and "Dos & Don'ts" to the heart of the guide: the product overview.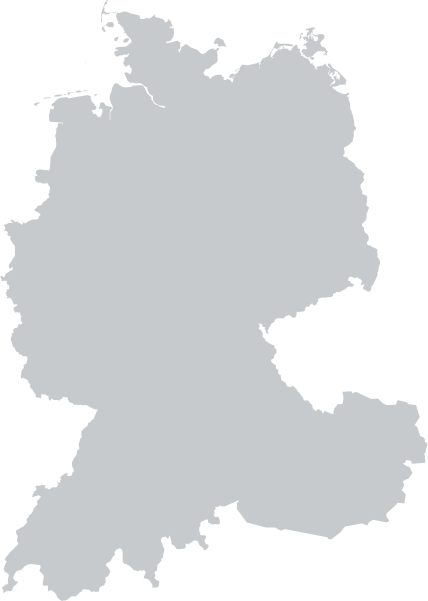 Circulation: 10,000 approx.
Ships to approximately
8,000 qualified BARC
contacts
Distributed at relevant conferences and seminars
Market overview on barc.com
Company profile on barc.com
Case Studies on barc.com
~7,000 unique visitors per month
~ 6,000 newsletter recipients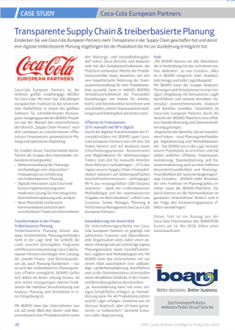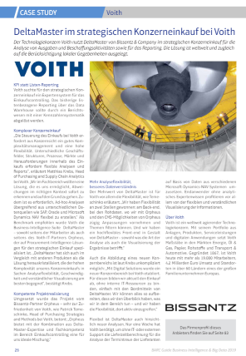 How to showcase your company in the BARC Guide
The heart of each BARC Guide is a detailed product table, which is updated every year by BARC analysts. This product table also forms the basis of the online database. The BARC product table is available as a print version and online with search functionality.
Present yourself in the print version:
Book a company profile to convince decision-makers interested in your product and then immediately refer them to the right sales colleague. Your product really should be here!
Additional options:
Case Study: Win over prospective customers with a world-class example of how your software can be used successfully
Advertisements: Achieve even greater visibility – so your product is never overlooked
As part of your booking for the BARC Guide, you will also be represented on our interactive Solution Map.
All providers covered also appear on www.bi-scout.com, the website for BI, analytics & big data.
The BARC Guide product table appears as an interactive tool here: In the market overview, decision-makers can use various filters to display a selection of solutions.
Benefit from increased visibility, a boost in traffic and lead generation options:
Companies who book a company profile are displayed first (in alphabetical order) with their logo.
You can include images, videos, case studies and other information in your company profile. This makes it easy for prospects to learn more about the benefits of your product with just one click.
Your case studies can also be found by users via a separate online database. Provide potential customers with a convincing reference for your product. All downloads are registered and you will have the opportunity to purchase a list of the prospects who download your case studies.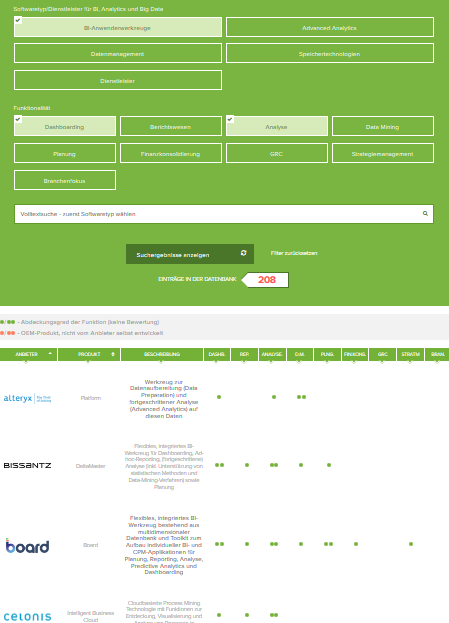 Company profile and case study online at BI-Scout.com
€1,990
Company profile in the print version of the BARC Guide
+ €400
Case study in the print version of the BARC Guide
+ €300